Oh Miroir !
Restaurant
Fine cuisine, a selection of surprising wines, a welcoming atmosphere, small rooms, an intimate mezzanine level, a sunny terrace, the Oh Miroir! offers a complete, quality service. Based around a clever menu, you will be welcomed into a friendly and sleek environment by passionate individuals who are keen to share their passion for enjoyable meals.
There is the option to hire the mezzanine for private group or company meals.
Tuesday 11:00 am - 10:30 pm
Wednesday 11:00 am - 10:30 pm
Thursday 11:00 am - 10:30 pm
Friday 11:00 am - 11:30 pm
Saturday 11:00 am - 11:30 pm
oh@ohmiroir.be | +32 (0)4 230 70 60 | www.ohmiroir-restaurant.be
Management: SPRL Oh Miroir !
L'Escale
Cafetaria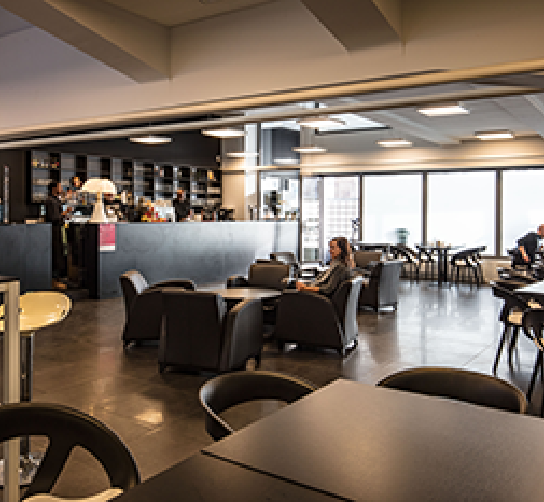 For coffee or lunch, L'Escale welcomes you on the second floor of La Cité Miroir, opposite the reception desk. Hot and cold beverages, freshly made sandwiches, salads, seasonal soups, a varied menu featuring fresh produce.
Kefta, falafel, braised chicken, home made tuna... discover our specialities!
Open Monday to Friday 9:00 am - 4:00 pm
Open weekends and evenings in accordance with activities and on request
On the 2nd floor of La Cité Miroir
escalecommande@gmail.com | +32 (0)4 230 70 62
Place Xavier Neujean 22
4000 LIEGE
Management: Vocational Training Company - L'Acacia